Chemical peels dramatically improve texture and clarity of your skin. The exfoliation aids in elimination of fine lines, clogged pores elasticity and pigmentation for a brighter, healthier, balanced skin.
ZO Stimulator Peel
Highly tolerable with no patient downtime this peel is ideal for face, neck and chest. A good choice for a first peel.  (Retinol)
Strengthens and tightens skin
Smoothes and improves skin texture
Decreases large pores
Minimizes appearances of fine line
Repairs damages surface skin
Reduces skin sensitivity
ZO 3 Step Peel
Suitable for any skin type or color, the ZO 3-Step Peel is an anti-aging exfoliating peel that penetrates the epidermis and upper dermis with TCA. (A blend of 17% salicylic, 10% trichloroacetic and 5% lactic acids.) Glycerin improves hydration which aids in healing and Retinol is used for cell renewal. Healing is complete in 3 – 5 days.
Improves skins ability to heal and renew
Stimulates cellular renewal
Powerful antioxidant benefits
Enhances skins natural DNA protection
Boosts collagen for visible firming and wrinkle reduction
Decreases pore size
Evens skin tone and texture
VI Peel –  New Generation Facial Peel
Beautiful results in just ONE week!
Safe for all skin types (1 – 6)
The VI Peel is designed to provide remarkable results with little downtime. This no-burn peel can help improve the overall skin tone, texture and appearance as well as soften fine lines and wrinkles. It will reduce or eliminate hyperpigmentation, melisma, age spots, freckles and acne scars. You can expect to experience four to five days of downtime with active peeling of the skin. Once the old layer of skin has peeled away you will see fresh, glowing skin. Peel is made up of tretinoic acid, salicylic acid, phenol, vitamin C and minerals. It is recommended to do three treatments of the VI Peel per year for optimal results.
Laser Hair Removal Services
Our Laser threats BLONDE Hair!!!! Hair removal is treated in series of six (6) treatments. Touch ups or additional treatments may be necessary depending on the client. Treatments are scheduled four (4) to six (6) weeks apart depending on the area being treated. We offer individual treatments or a series for more value.
Areas for treatment:
Lip
Cheeks
Side Burns
Full Face
Neck
Back
Chest
Arms – Full or Half
Underarms
Bikini Line
Brazilian (No pain Frac 3 Mode)
Legs – Full or Half
Chin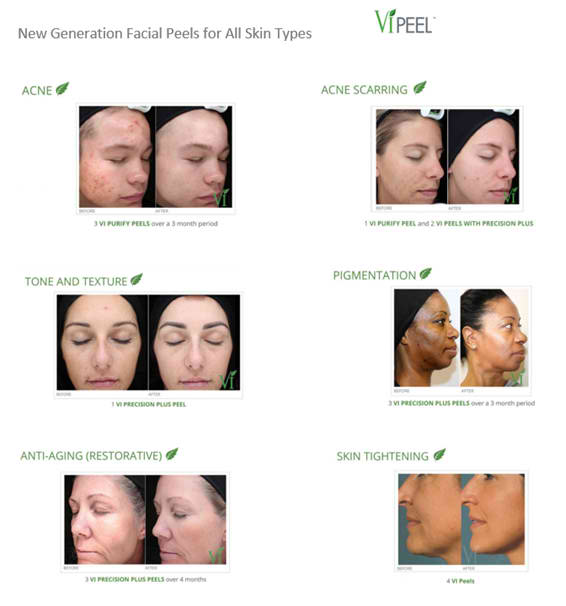 MicroChanneling / MicroNeedling  +  Stem Cell Science
A Breakthrough Approach to Skin Rejuvenation using Growth Hormone and Patient's own Blood (PRP)

Platelet-Rich Fibrin Matrix (PRFM)
Next Generation PRP Facials – using the patient's own platelet-rich plasma to stimulate collagen production to smooth lines and improve texture.